Harbour in the Community
Harbour Capital Corporation has a deep sense of community responsibility and considers charity to be a supreme virtue. Especially during our latest economic challenges, we believe that "giving back" to our less fortunate community families is paramount.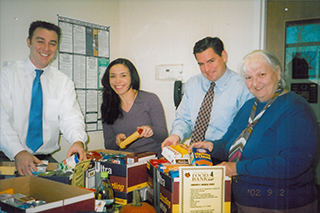 Two of our favorite events are our Annual Food Drive; soliciting foods, products and money for The New Hampshire Food Bank, an agency that is responsible for feeding the struggling families of the state through 408 agencies and Toys for Tots.
We realize that Feeding the Hungry isn't just about putting food on someone's table; it is about taking care of our community. Each year, employees anticipate this drive and through their generosity, they try to beat last year's donation to help the ever-rising need for assistance.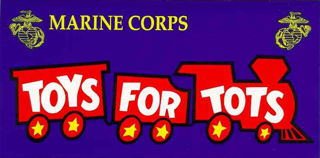 Did you know that Toys for Tots is a program run by the United States Marine Corps Reserve which donates thousands of toys to children whose parents cannot afford to buy them gifts for Christmas? The program was founded in 1947 by Major Bill Hendricks. The idea came from Bill's wife, Diane, in 1947 when she crafted a homemade doll and asked Bill to deliver it to an organization to pass on to a needy child at Christmas. When Bill determined that no agency existed, Diane told Bill that he should start one… and he did.
The mission of the program is to collect new, unwrapped toys during October, November and December each year, and distribute those toys as Christmas gifts to needy children in the community. In keeping with the true spirit of Toys for Tots, Harbour Capital will kick-off its annual Toys for Tots Campaign beginning the day after Thanksgiving and ending just a few days before Christmas. Each year, Harbour's family of employees donates dozens of new, unwrapped toys to Toys For Tots. We believe ALL children should have a magical Christmas and this year our goal is to continue fighting the recession and collect more toys than ever!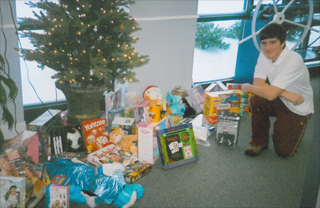 The Pease Greeters Organization is local to Harbour Capital's Newington, NH headquarters, but its purpose and touch are national. The Pease Greeters arrange for citizens of New Hampshire and beyond to be the first to greet troops returning from abroad and also to provide warm send-offs for those just leaving to serve in combat areas.
Harbour Capital employees have enjoyed participating in the celebration of honoring those who are fighting for our freedom and security. By cheering our soldiers on as they arrive home or depart, we are able to say THANK YOU for their service and dedication and show them that we CARE.